What is symmetric DLS?
Partial explanation we see in the article OEIS
Number of horizontally symmetric diagonal Latin squares of order 2n with constant first row.
https://oeis.org/A287649
Example of a vertically symmetric DLS of order 10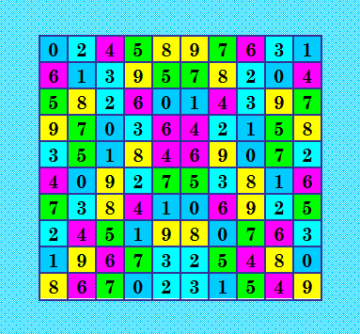 In this DLS is a one-to-one correspondence of pairs of elements symmetrical with respect to the vertical symmetry axis of the square: (0,1), (2, 3), (4, 6), (5, 7), (8, 9).
A classic example of a vertically symmetric DLS of order 10 by Gergely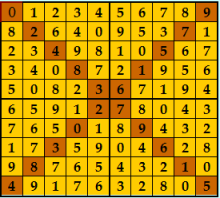 See
Ervin Gergely. A Simple Method for Constructing Doubly Diagonalized Latin Squares. 1972.
https://yadi.sk/i/reXszmOC3RFUQC
The algorithm was developed and programmed by Belyshev.
See
http://forum.boinc.ru/default.aspx?g=posts&m=89617#post89617
The program was adapted for the BOINC platform
Progger
.
---
https://yadi.sk/i/S1HhJBwp3Pr9jX